New Vegan Dishes With a Mexican Flair
It is with great pleasure that we announce the latest update of our restaurant's menu. As a modern establishment which aims to stay up to date with our customers and their needs, we have decided to further develop our vegan-friendly options. Our restaurant's mission has always been to provide tasty and healthy meals to all our customers.
Inclusivity is at the top of our priorities, and we are working towards a substantial menu for both meat-eaters and vegans. Since we are aware that some of our customers have health restrictions, many of the newly provided dishes are gluten-free as well.
As any forward-thinking establishment, our goal is to use sustainable resources and offer ethical and planet-friendly menu items. Besides being healthy, we always take care that our food is delicious. Since our guests have shown an affinity towards Mexican-styled cuisine, we have made the decision to add a vegan-friendly selection of such dishes.
New Options
The updated menu features a number of burrito bowls.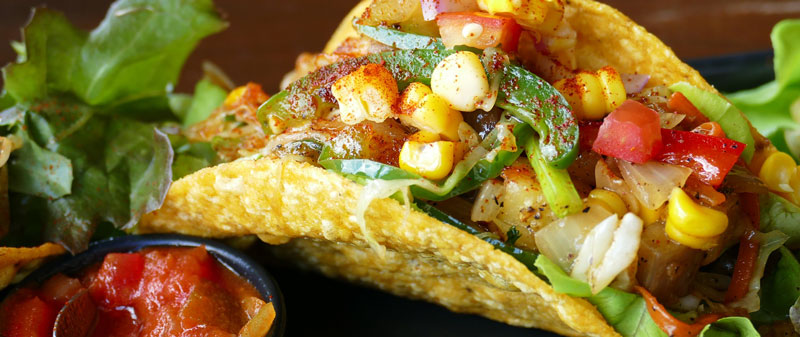 Kale, Avocado, and Black Bean Bowl is made with lime-marinated kale, brown rice, and jalapeños for a spicy kick. The flavorful dish is also gluten-free.
Green Rice and Spicy Sweet Potato Burrito Bowl contains filling roasted potatoes. It is spinach that makes it green and healthy too. There is also another gluten-free option, the Spaghetti Squash Burrito Bowl.
The Vegetable Paella features chickpeas, vegetables, and smoky brown rice instead of the traditional Spanish bomba rice. None of the ingredients contain gluten.
Pinto Posole is a vegan take on the well-known Mexican stew. Instead of pork, you will find pinto beans in this healthy and spicy dish.
Our Hummus Quesadillas do not have any cheese in them. Instead, the Middle Eastern spread brings the flavor. They are dairy-free and delicious.
Finally, everyone in the mood for vegan food can order the Roasted Butternut Squash Tacos.
They come packed with roasted butternut, guacamole, black beans, and fresh slaw.
We are hoping to accommodate our vegan guests with this expansion of the restaurant's menu. Our goal is to continue making our options more inclusive, and we encourage everyone to try the new dishes and share their thoughts.